Full Website design and E-commerce build for Kiltpin
Kiltpin are a well established and award winning highland outfitters based in Falkirk. They were looking to expand their online presence by updating and improving their current website.
To modernise their current website platform we built the new site using WordPress as a backbone which allowed us to use the excellent WooCommerce plugin to enhance the website Ecommerce experience.
Woocommerce is an excellent option straight out of the box and can be styled and extended with extra functionality. Hiring a kilt on line is a complicated business as there are many required size options, in Kiltpin's case we added a dynamic tartan selector and streamlined the sizing options to avoid cart abandonment.
The site itself features a minimalist layout which best serves the new product photography and urges the user to click on the kilts helping them find their way through the buying process to the checkout.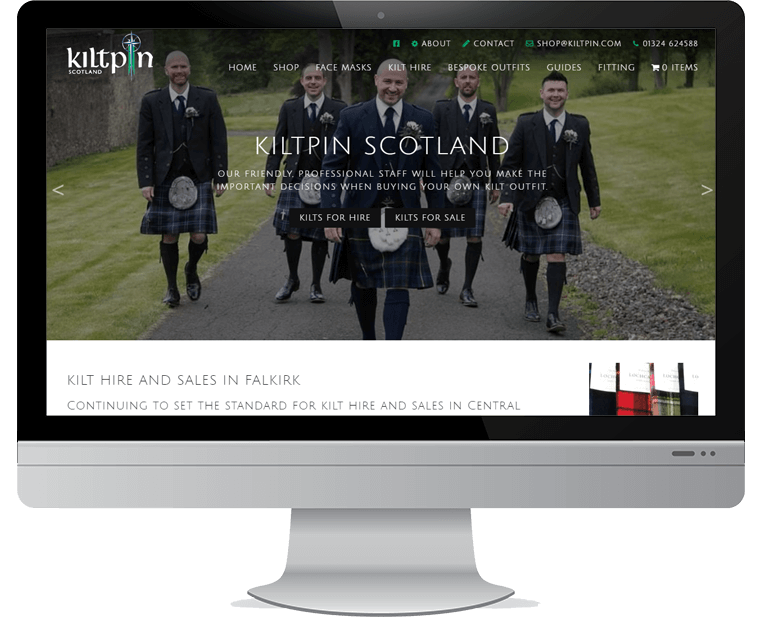 Some of our recent web projects
We work with many different companies of all sizes to help them improve their online presence. We've designed and built hundreds of website over the past few years and helped many companies with their SEO and social media campaigns.
Wild Wimmin
web design / ecommerce / optimisation
Hacking & Paterson
web design / optimisation
Dunfermline
web design / ecommerce
BluePrint Recruitment
web design / optimisation
DIY Scotch Pie
web design / ecommerce / optimisation
MWP Architects
web design / optimisation
Need our Assistance?
We'd love to work with you on your new project get in touch with us today