Hacking and Paterson Management Services
WordPress website design and build for HPMS
Hacking Paterson Management Services are one of the country's leading independent providers of property factoring services, they have a long established reputation, built upon strong foundations and a proven ability to meet the needs and expectations of their customers.
Hacking & Paterson required a website that matched their reputation. Portal worked closely with HPMS to design and build an effective, modern, responsive website. The site had to provide information and links to payment gateways for existing customers as well as help promote the company to potential new clients.
We designed and built a modern, responsive site using WordPress as a content management system. We also created a strong call to action for the companies new payment gateway. We optimised the site for speed and organic SEO.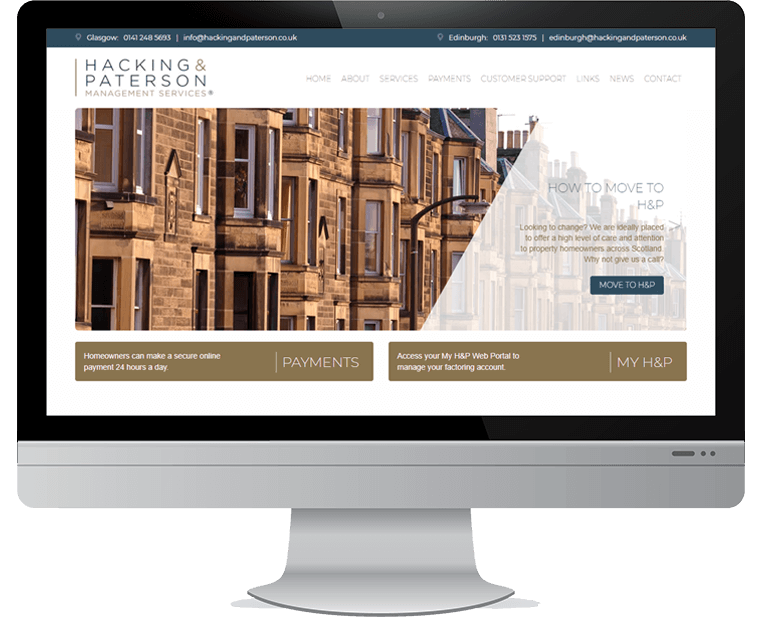 Some of our recent web projects
We work with many different companies of all sizes to help them improve their online presence. We've designed and built hundreds of website over the past few years and helped many companies with their SEO and social media campaigns.
Wild Wimmin
web design / ecommerce / optimisation
For Food Sake
web design / optimisation
Dunfermline
web design / ecommerce
BluePrint Recruitment
web design / optimisation
DIY Scotch Pie
web design / ecommerce / optimisation
MWP Architects
web design / optimisation
Need our Assistance?
We'd love to work with you on your new project get in touch with us today