We've been advocates of the WordPress Content Management System for many years. It provides our clients with an easy way to keep their websites and can also be extended to create complex websites.
SEO Friendly
One of the main advantages of WordPress is it's excellent Search Engine Optimisation capabilities.
When we create a WordPress theme we ensure that its structure follows Googles good practice guidelines:
All heading and title tags are nested correctly
Images have relevant and meaningful titles and alt text
Optimised images and files for speedy delivery across the internet
WordPress also has the advantage of having many excellent SEO plugins, the most popular of which is Yoast which gives control over sitemaps, meta data for pages and posts. In addition to this there are several caching plugins which speed up our websites and also improve page rank.
Easy Editing
One of the main attractions of WordPress to our clients is the ease at which text, images and other media can be added to each page.
We build our WordPress sites with the clients ease of use a priority.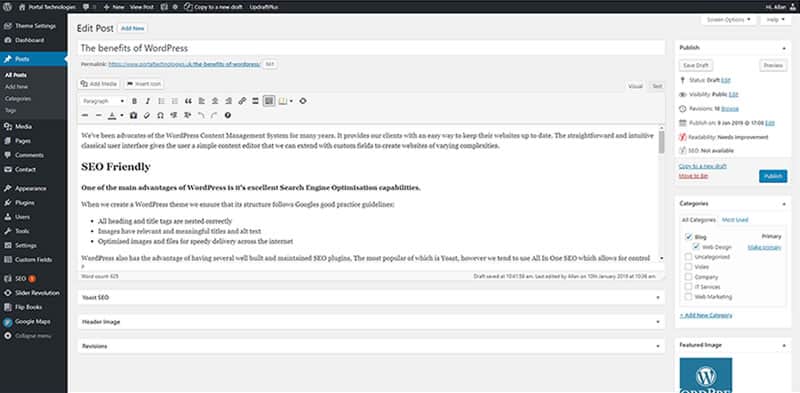 WordPress have recently launched a new block style editor. This editor splits all content into separate blocks which can be moved up or down and styled individually. We have chosen to disable this block editor on our sites as it doesn't really fit our clients needs at the moment. We use Advanced Custom Fields to add bespoke content sections to pages and posts.
Extensibility
WordPress has a huge bank of plugins that can be installed to extend its functionality.
Plugins are created and supported by keen developers all over the world, often for free and can be installed with a few clicks in the WordPress admin area.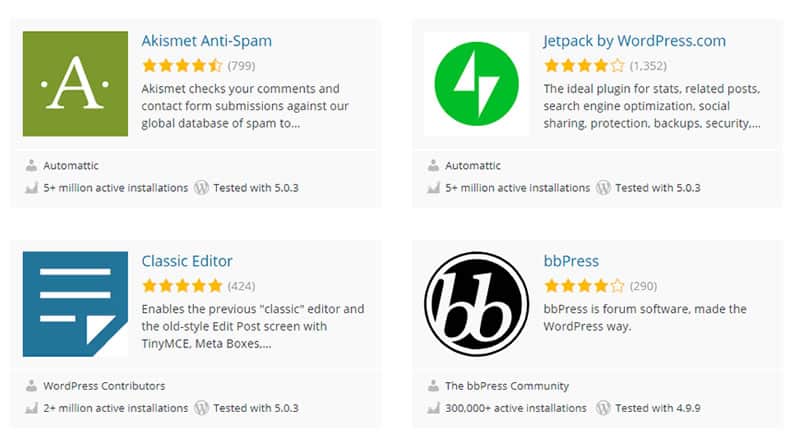 There are also many paid plugins which can offer a more premium product and range in price depending on the functionality. Plugins allow us to turn a basic site into a fully fledged e commerce website with great SEO capabilities.
Support
WordPress is an open source project with many hundreds of developers contributing to it all over the world.
There are also many plugin developers working on improving the functionality of WordPress ever day. WordPress is the worlds most popular content management. This means that if you have a problem with any aspect of your site, plugin or theme then there will be a developer who can help. It also makes moving from web design agencies easier as most agencies have some level of expertise in WordPress.
Cost Effective
As WordPress is a free content management system it provides us with a solid base which we can build our websites.
In the past we had to create bespoke admin areas of our websites to allow our clients to edit their website content.
As WordPress provides this functionality out of the box saves us a lot of development time. Plugins also help to save development time which means we can pass on savings to clients.